This summer the Order of Malta hosted its second annual Malta Camp USA, a free, week-long summer camp for young adults with physical and intellectual disabilities. Held at Siena College in Albany, NY from July 9-13, Malta Camp USA is an Auxiliary and young Knight and Dame-led effort that builds on a 40-year tradition of Malta Camp programs in Europe. Our focus on building community among those with and without disabilities – recognizing the innate value and dignity of each participant. Targeting the 22-40 age demographic, Malta Camp USA serves a population who has recently aged out of social services offered through schools and often faces social isolation as their peers matriculate to college and beyond.
This year's camp represents an exciting growth milestone for the program, with participation from all three US-based Order of Malta Associations (American, Federal, and Western). Further, the program was planned and executed by a dedicated team of ~20 individuals, including Auxiliary, young Knights and Dames, and volunteers from across the country, under the guidance of a Steering Committee of American Association leaders. With 23 Guests, 35 full-time volunteers, and 10 part-time volunteers (a rough doubling of last year's size), Malta Camp 2023 was filled with laughs, smiles, and lots of spontaneous dance parties!
This year's Guest roster included 10 returning Guests (out of the 11 who attended last year) and 13 new Guests. Volunteers, about a third of which returned from last year's camp, fell into two groups – Helpers, individuals in the same age demographic as Guests who were paired 1:1 to support them throughout the week; and Staff, an age-agnostic group of both medical and non-medical specialists who supported specific needs throughout the week (e.g., media, logistics, medical team).
Our growing size prompted us to take a cue from the Lourdes Pilgrimage – this year Malta Camp USA implemented color teams to make the size of our larger program more approachable to new participants. Each color team took bus rides together, ate meals together, and competed for bragging rights at events like Field Day and a Scavenger Hunt. Further, each team color corresponded to a Saint of the Day (e.g., Team Yellow had St. Lucy), and was responsible for leading mealtime prayers and sharing information about their Saint with all campers on their assigned day at camp.
Themed "You are the Light of the World", based on Matthew 5:14, our spiritual programming centered on Jesus as a source of light and hope for everyone, and a call to all participants to share God's light with all they encounter. This theme was brought to life through our camp prayer, said daily at meals, a candlelight procession and vespers Taize service, and our new Saint of the Day initiative, among other moments shared throughout camp. At our Closing Mass, Bishop Scharfenberger called us to be a beacon on Christ's light to all those we encounter.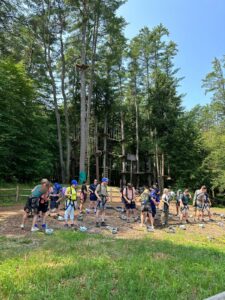 Beyond our spiritual program, our packed agenda included whitewater rafting, pottery painting, bowling, and a visit to a local farm, giving participants an opportunity to try new things and test their limits. In addition to creating long-lasting memories and supporting new friendships, our adventurous activities help many participants build a sense of independence and self-confidence that can last well-beyond the week of camp.
While no one could agree on their favorite activity, one camper said it best – "I was scared to try something new, but I pushed through and now I'm so proud of myself!"
At our annual Talent Show, we had Guest's showcase their skills in singing, dancing, magic, karate, and more!
As one of our Guests said, "I was so scared to perform, but the cheers from the crowd made me so happy".
Each participant at Malta Camp USA brings their unique abilities, personality, and, above all, love to our week at camp. One of our most articulate Guests shared her reflection on what Malta Camp means to her in our final daily update. A particularly meaningful quote from her speech was:
"In a world where my uniqueness and need for support is often met with misunderstandings, Camp is not just a place but a family where I am embraced by everyone in all that happens – good or hard. It feels like a warm hug and a belly laugh every day, because we laugh a lot every day here. The support I and others have received this week for various reasons -- our care was filled with the biggest amount of loyalty, love, loving, compassionate, care, kind, joyful, thoughtful, and caring support. In the moments when I've had some hard times, it makes me want to cry thinking about how everyone here at Camp showed up and kept showing up to be the hands and feet of Jesus, no matter what."
In building our Malta Camp USA community as a year-round "family", we see our week at camp as the keystone event that grows and re-energizes a lifelong community of current and past Guests and volunteers. Kept alive through quarterly virtual events, occasional cards, and near-daily texts, we are a chosen family -- 60+ people who love each other unconditionally, quirks and all.
In order to offer Malta Camp USA free of charge to all participants, we rely on donations from individuals and organizations. The Malta Camp USA team would like to extend a special thank you to the White Cross Ball Committee, Albany Area Chairs, Peter and Jean Maloy, Albany Area membership and friends, the American Association, and the Western Association for their significant contributions that made this year's program possible!
We are very excited to see the Malta Camp program mature here in the United States, and aspire to see the program continue to grow, potentially moving to different cities across the country and including participants from across the Americas. If you are interested in hosting a future Malta Camp USA in your Area, or know of any young people who might be interested in helping plan or volunteer at Malta Camp USA, please reach out to Mary Delaney, AUX at info@maltacampusa.org.