Ever since I joined the Auxiliary years ago, I had heard of Pilgrimage to Lourdes as the signature event of the Order of Malta. Knights and Dames had always spoken to me about this pilgrimage and described it to me in many different ways.  Melody Paulsen, DM had described Lourdes as a"life changer". This is exactly what Lourdes was for me, a change of life.
In last quarter of 2019, I received an email inviting me to go to Lourdes. I thought how "lucky" I was and not how "blessed" I was to be invited to take part in such an indescribable journey. I made the necessary arrangements so I could be off from work for the pilgrimage. I spoke to my boss and my request was granted. I even had paid in full for my trip. Weeks before the pilgrimage the Coronavirus (Covid-19) was declared a pandemic.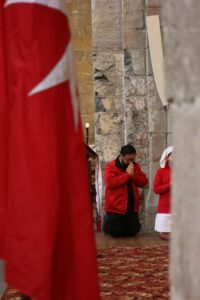 All my plans in life had to be put on-hold and some others cancelled or postponed. The Pilgrimage to Lourdes was cancelled as well. I went through a lot of challenges during this time. I was put on furlough for work, then my position was eliminated and therefore my employment with the company that I had dedicated a significant time of my life was over. A sense of instability invaded my mind, but God in His Providence is always there to provide to his people. I never lost my faith, on the contrary, I deepened more my Catholic faith by increasing daily prayer and by attending to daily Mass during the lockdown. I offered my help to my pastor during this time. I got involved with helping at the daily Mass live-stream at my home parish. Easter of 2020 was filled with a lot of sweet and bitter moments. I was happy because I was there with my Lord, being nourished every day with his Word and with his precious Body in the Eucharist. I was also sad because many people could not access the sacraments due to the health restrictions imposed by the government. Thankfully the restrictions loosened, and we all were able to go back to our daily chores with the "New Normal".
Then, during summer of 2021 again I received an invitation to go to Lourdes with the Order. I could not respond immediately because I had not gone back to work, and therefore, I did not know if I could spend the money because of my normal daily obligations. I finally got a call from my former employer offering me a promotion with a pay cut. Ironically, right? This was the new normal.
Early in January 2022 I received a call from Bud Grandsaert, KM asking me to be a part of a Zoom call that he did not want me to miss. I reached out to my dear friend Michelle Navarro, AUX to find out more about the details of this call but she did not want to unveil the great news. I took the call the day it was supposed to be. The great news was that The Board of Directors of the Western Association announced a grant for Auxiliary members so they could go to this magnificent pilgrimage. I applied for the grant and was blessed to get it!
I was excited about the news but at the same time I did not know if my boss would grant me the time to go in this pilgrimage. Bud called me and asked me to get back to Franco Cirelli, KM because they had not heard from me. Ultimately, I spoke to my boss and asked him if I could take the time off. I was afraid of a denial because I was only 5 months in my new role. The first time I asked him he said no without any hesitation. I was discouraged by this, but a week later I had the "courage" to asked him again. I had resolved to leave everything behind in the event of a new denial. He was surprised of my determination to go on this pilgrimage. Finally, my request was approved.
Within few days, after I confirmed my attendance, I received a welcoming letter in the mail with other materials for the Pilgrimage orientation. I do not recall many details of this package, but I do remember the last paragraph of this letter said, "Remember that you are not looking for something in Lourdes it is Mary that it is inviting you to go to Lourdes".
I fell into tears when I read these lines. I truly believed these words. Mary the Mother of God, our mother, invited me to take part in this journey.
I had the courage to say "fiat" yes to her call, to the call of her Son, Our Lord Jesus Christ. The days came by and finally that awaited day had come. I got ready to go on this journey. I prepared with fasting and prayer prior to the departure day. Our Lord Jesus remarked once, referring to demons 'This kind can only come out through prayer and fasting' (Mark 9:29) Prayer and fasting are very powerful weapons against the devil.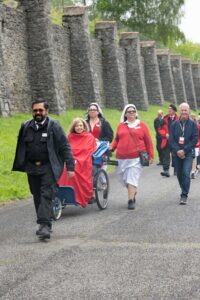 We arrived to Lourdes and on the very first day I joined a group of people led by Miriam Greaney, DM and walked to the Grotto where Our Lady appeared to St. Bernadette. We walked by the Rosary Basilica and I smelled an oily floral fragrance that I was unable to perceive. No one else noticed but me. Fr. Paw described this as Mary's welcome. Mary welcomed me but also was bringing me close to our Lord Jesus Christ. Mary is Christocentric.
During a Holy Mass celebrated Fr. James Heft, SM and concelebrated by other priest Chaplains of the Order, he invited us to have the "courage" to embrace the cross of Our Lord through our daily sufferings. Here is when I realized that Our Lord never gets tired of calling us to follow him, to take our cross and to follow him. Our Lord calls us every single day to follow him and to do God's will. To love God, and to love him throughout our brothers and sisters, to serve him in our neighbors throughout their pain and sufferings. God is inviting us to have the "courage" to respond to his calling. I invite you to take this resolve. Have the courage to answer his call to abandon your being to his Divine Providence and to trust God Our Lord no matter how difficult your daily struggles may be, know that he is closer than we can imagine. Taste and see that the LORD is good; blessed is the stalwart one who takes refuge in him. Psalm 34: 8
I met so many wonderful people, people gifted with many graces, some of them are true miracles of our Lord, some are the channels through which Our Lord acts to convert others.
I was blessed that I had the "courage" to take on this Pilgrimage. I was blessed to serve Our Lord, my Lord Jesus Christ thought every single person I encounter in this pilgrimage. I found Our Lord, my Lord in the happiness of the little ones and the suffering of our dear Malades.
Have the courage of Samuel when The Lord called him and he said "Here I am Lord"
Yours truly,
Diego Muro