On Wednesday, January 27, 2021, eight members of the Orange Location met at Catholic Charities Orange County, in a vast, open, warehouse space. The sub-assembly team worked in masks and were spaced according to protocols, to keep everyone safe.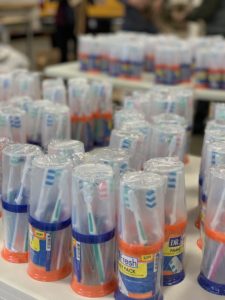 The team worked in an assembly line, filling 25 30-gallon bags with personal hygiene supplies. The large bags contained 30 of each of several items critical to the local poor and homeless, including essentials like soap, toothpaste and toothbrushes, razors, socks, and deodorant.
For the first time, the Orange Location had enough supplies for 120 kits designed specifically for women.
Next, they delivered the large bags to the doorsteps of 17 other Malta members, where a second team Knights and Dames divided the hygiene products and assembled 750 individual kits at their individual homes.
A third team retrieved the large bags, containing the assembled hygiene kits, from Member doorsteps, and delivered them to six different charities supported by the Order, including Mercy House, Mission Basilica Outreach, and others. The hygiene kits were very well received by the charities.
The Orange location continues to find creative ways to serve the poor and homeless, while keeping members safe during this time.