Fra' Carl Noelke, 82, a Knight of Justice in Perpetual Vows, died on April 8, Holy Thursday, at his home in San Francisco.
Invested in 2005, he later served as Vice Regent of the Subpriory of Our Lady of Philermo from 2011 to 2019. In 2013, after a years-long process of discernment and formation, he took solemn vows of chastity, poverty and obedience as a Professed Knight of the Order.
His passing was a blow to his fellow Professed Knights in the Sovereign Order of Malta, an estimated 60 in number, and saddened members who worshiped and worked side by side with him in the Subpriory, the San Francisco Location, and Lourdes.
Jon Rewinski, KM, Regent of the Subpriory, was among many Knights and Dames who expressed gratitude for Fra' Carl's life of spiritual devotion and service to the poor, the sick, and the lonely. Rewinski recalled Fra' Carl's profession of solemn vows, and the great joy that seemed to "lighten his step," as he lived the charism of the Order in a deeper, more radical way. 
In addition to their personal work, the Professed are expected to participate substantially in the work of the Order. "His greatest fear was that he wasn't doing enough, his fellow Fra's told me," said Rewinski. "They were embarrassed because he was doing more than anybody. He is a wonderful example of the Professed within the Order."
On the morning of April 10, Holy Saturday, with Covid 19 restrictions still in place, Father Eric Hollis, Principal Chaplain of the Subpriory, led a zoom-facilitated global prayer service for Fra' Carl. Two members of the Sovereign Council and nine Fra's from across the world joined with knights, dames, and malades to pray the Office for the Dead, part of the Divine Office. "This was Fra' Carl still at work, calling us to prayer," said Rewinski. "This is what he has done for us all along." 
His high-level experience in mediation made his guidance in challenging times especially valuable, said officers of the Western Association.
Carl Bernhard Noelke was born on May 22, 1937 in LaCrosse, Wisconsin, the oldest of Ida and Carl Noelke's five children. He attended Catholic elementary and high school. After completing undergraduate studies in philosophy at the University of Notre Dame, and serving in the U.S. Army Reserve, he was drawn to priestly life. He entered a house of formation for the Brothers of the Holy Cross for a very brief period, but finally settled on a legal career. After graduating from the University of Wisconsin Law School in Madison, he began his practice in Milwaukee, and then moved out to San Francisco in 1968 to work for the Securities and Exchange
Commission. He left the SEC in 1975, and helped establish Shearer Lanctot & Noelke LLP, a law firm where he specialized in securities work. After his retirement, he served as an arbitrator and mediator, and continued to provide his legal expertise both professionally and in some cases pro bono.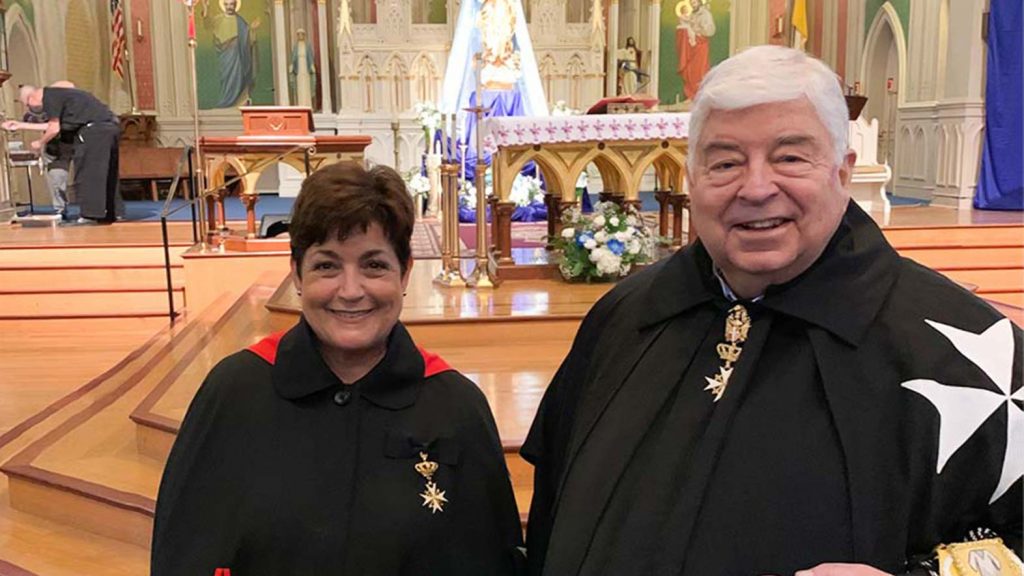 He put all his professional skills and special talents to use when he joined the Order in 2005, helping with a range of responsibilities, from leading prayers at San Francisco Location events to organizing paperwork to document a possible miracle at Lourdes. His high-level experience in mediation made his guidance in challenging times especially valuable, said officers of the Western Association. He was able to understand and respect both sides of any disagreement and identified solutions that arrived at the most productive outcome.
A gifted tenor, who served as a member of the San Francisco Symphony Chorus, and took part in Bohemian Club productions, Fra' Carl approached sacred music as another form of prayer during the Holy Sacrifice of the Mass and the Daily Office. At the annual Lourdes pilgrimage, his strong voice rang out during Marian processions, and in the evenings, when he entertained malades. An infectious joy and sense of camaraderie sweetened Fra' Carl's interactions with friends and strangers alike.
"When the announcement of his passing arrived from the Order, I adored the title of 'Leader-in-Joy,' to describe Fra' Carl," said Ken Ryan, KM. "God was and always had been so present in Carl." The joy seemed to brighten when he met with fellow Professed Knights at Lourdes, brought the Eucharist to residents at Alma Via, a San Francisco eldercare home he visited twice weekly, or escorted homebound friends in the Order to Mass and dinner on Saturday evenings. Illona Root-Chang, the life enrichment director at Alma Via, recalled the delight of memory care patients who loved his repertoire of old-fashioned songs. "Carl had a kindness and generosity of spirit," she said, "touching the lives of patients and staff members."
Knights and Dames cherished memories of his compassionate interaction with Our Lords, the poor and sick, that inspired emulation in their own work for the Order.
Knights and Dames cherished memories of his compassionate interaction with Our Lords, the poor and sick, that inspired emulation in their own work for the Order. Bill and Ann Regan recalled one striking scene that unfolded over a Hofbrau lunch following a World Day of the Sick service. "When Carl headed for the food line, a disheveled, apparently homeless woman asked him to get her a cup of coffee," said Ann Regan.  The woman declined his offer of lunch but sat down at the empty seat near him. While the rest of the group chatted among themselves, "the woman regaled Carl with her story," said Regan.  "He was totally engaged." After lunch, Regan told him she was impressed with the attention he had given the woman.  "He smiled and said, 'Isn't that what we are supposed to do?'"
Ben Bongers, KM, observed Fra' Carl's behavior toward "billionaires and people living on the street," and concluded that he showed "more deference for the poor. He really did live the precept of the Lord's poor," but tried to avoid drawing attention to himself.
Fra' Carl's discomfort with praise arose, in part, from a belief that he wasn't "doing enough," said Wade Hughan, a former Regent of the Subpriory of Our Lady of Philermo who has known Fra' Carl since 1984 and supervised his formation by a Professed Knight and a Chaplain through final vows. "He was fastidious, and conscious of wanting to live his vows more actively." Hughan pointed to Fra' Carl's daily spiritual practices and deep interior life as the foundation and inspiration for his work in the Order. "Carl lived a life of faith," said Hughan. "Daily Mass, the Rosary, and other devotions had anchored his life well before he began the formal process of discerning a religious vocation." For years, he had joined the Dominican friars at St. Dominic's Catholic Church in San Francisco praying the Divine Office, and spending time before the tabernacle. "The last time I spoke with him, about two days before he died, he had been at home for at least a month," said Hughan. "He told me, 'I am comfortable and happy, but I long for the Eucharist.' From Holy Saturday of Easter 2019 until he was required to quarantine himself at home, he had received the Eucharist every day. He longed for the Eucharist and that was a deeper loneliness than anything else he experienced during the quarantine."
As a professed, "Fra' Carl made the deepest possible commitment to the Order in response to the gift from God of his vocation," Hughan concluded. He sought to be "invisible in his service," even as he "brought all the joy of his personality" to this work. Fra' Carl's remains have been interred in LaCrosse, Wisconsin. A public memorial service in San Francisco will be planned as soon as the current quarantine is lifted.