The 2023 Phoenix Location World Day of the Sick Healing Mass on Saturday February 4th was an extraordinary blessing to those in attendance and the million+ viewers online and on EWTN. The Mass was celebrated by the new Bishop of Phoenix, the Most Reverend John Patrick Dolan. Two of the concelebrants were two Phoenix Location Chaplains, Father Steven Barber, S.J. and Father Donald Kline. Also serving the altar and assisting with the Anointing of the Sick were the Crosier Priests and Brothers, and Deacon Peter Auriemma, KM. Nearly all of the Knights and Dames of the Phoenix Location were present and robed or in their Lourdes work uniforms serving as assistants, ushers, parking, and security. The entire Phoenix Location is extremely thankful for the Provisional Members, Auxiliary Members, Volunteers, and the Boy Scouts of America.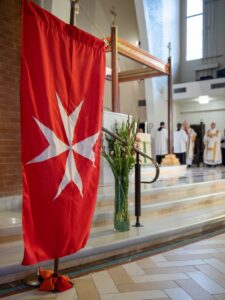 "We guess that there were over 600 souls in attendance, 2,000 plus prayers on praywithmalta.com and over a million viewers on EWTN and AZ 7" - Timothy Jeffries, KM
The event was streamed online and also televised on EWTN worldwide in addition to locally on Arizona Channel 7.
Skyline Productions produced the days events, and provided a half hour documentary on the Order's works in Phoenix, at Lourdes, and around the world.
Please view the video of the Mass here: https://www.youtube.com/live/KPIUwaSWdZQ?feature=share
After the celebration of the Holy Mass and the Anointing of the Sick, a Catholic fair was held where Lourdes holy water was distributed to the faithful. Over 30 wonderful Catholic partners participated and helped fully fund the blessed events of the day.
"Having Steve Ray of Catholicconvert.com commentating on EWTN was a real treat to everyone tuning in!" - Brian Bouterie, KM