This spring, the Tucson Location gathered over the span of multiple weekends to do their first round of hygiene kits. Local Members, Provisional Members, and volunteers sprang into action to help the Women's Reachout Center and the Poverello House, two local charities in need of support for the great work that they do. The Western Association's hygiene kit program was the perfect solution to their needs.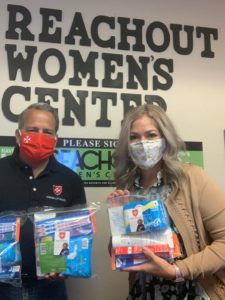 The Tucson Location coordinated with the Hospitaller of the Western Association to successfully acquire all of the supplies that would be used to make specific kits for men and women. Further, they worked with the Phoenix Location as well as the Los Angeles Location to ensure the successful assembly and delivery of hygiene kits for needy communities in Tucson.
Phil Lacovara, Tucson Hospitaller said, "Thanks to the Western Association for their guidance and support in the hygiene kit program. Thanks to the Phoenix Location for providing the supplies to Tucson and lastly thank you to Mike Psomas, KM, Leader of the Los Angeles Location for mailing boxes of socks."
Fr. Miguel Mariano, Chaplain of the Western Association, was on hand to help with the events as well as to provide mass and spiritual direction for the Members as they worked to serve the poor and the sick.