On Saturday, February 6, the Oakland Location had the privilege of once again supporting the Diocese of Oakland's Annual World Day of the Sick Mass, honoring Our Lady of Lourdes, at the Cathedral of Christ the Light.
Several Malades, their family members and caregivers were invited to attend the Mass, celebrated by Bishop Michael C. Barber, S.J. inside the cathedral, and closed to the public.
After Mass, people drove through a sanctuary, set up in the Cathedral garage, and received the Sacraments of the Anointing of the Sick and of Holy Communion. The drive-through was publicized and offered to all in the Diocese.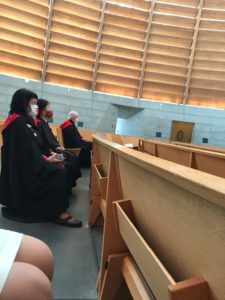 Although the crowds were not visible due to the restrictions, those watching on livestream, those in their cars, and all attendees witnessed the miracles and graces of the healing Sacraments in a more intimate way.  The blessings of the Catholic faith were palpable, through this most visible and important ministry of caring for the sick.
During the Mass, Knights and Dames served as lectors, and the servers included relatives of Members as well as volunteers of the Order.
After Mass, Dames of the Order distributed Lourdes water, rosaries, and holy cards. They also collected prayer petitions for the Lourdes Pilgrimage.
In the Cathedral garage, the Very Reverend Brandon E. Macadaeg, Deacon Tim Roberto, along with several Knights and Dames, assisted Bishop Barber during the drive-through Sacraments.
A number of Knights, Dames, Auxiliary Members, and volunteers helped direct traffic.
Click HERE to watch the livestream of the Mass and to see the message from Bishop Barber to all of those who are sick, and to those who love and support them.