"I am the living bread that came down from heaven; whoever eats this bread will live forever; and the bread that I will give is my flesh for the life of the world." – John 6:51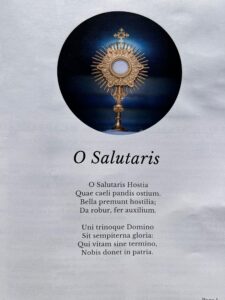 At the LA Catholics Eucharistic Revival on March 25, 2023, the Archdiocese of Los Angeles hosted a six-mile procession, beginning with the celebration of Mass at the Mission San Gabriel Arcángel at the Chapel of the Annunciation and ending at St. Luke the Evangelist Church in Temple City, then returning to the mission for the Benediction. More than a thousand of Los Angeles' faithful marched with Archbishop Jose Gomez.
The Eucharistic Revival is a movement of Catholics across the U.S., healed, converted, formed, and unified by an encounter with Jesus in the Eucharist – and sent out on mission "for the life of the world." It aims to renew the Church by enkindling a living relationship with the Lord Jesus Christ and the Holy Eucharist.
Members and volunteers from the LA Location distributed free sunscreen and water to participants, and water to participants, and the Order of Malta Mobile Ministries van was on hand to provide first aid if needed. "It was a privilege to support the Archdiocese and the LA Catholics Eucharistic Revival," said Vince Farhat, KM, LA Location Hospitaller.