Recently, Members of the Phoenix Location gathered together to serve the needy at the Andre House in Phoenix. Pictured serving our lords at Andre House are Anne Park DM, Rebecca Even PROV22, John Even KM Location Leader, David Park KM, Jake Sanford KM, Michael Jordan KM, Nancy MacDonald Sanford AUX, & BOOTs! PROV22
The Phoenix Location Members also served the elderly at Suncrest Hospice and Palliative Care.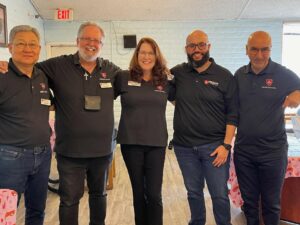 This is our first time back to Suncrest in 2 years because of covid! It was humbling to see the reverence of the residents and staff as we arrived with the Blessed Sacrament!" -Boots!
Starting with Holy Mass at The Priory of the Crosiers Priests & Brothers in Phoenix, the Knights, Provisionals, and Auxiliary afterwards held a communion service at for the needy at Suncrest.  Photographed are David Park KM, BOOTs! Brian Bouterie PROV2022, Susan Mohr PROV2022, Gilberto Burgos KM and Dlear Kosa AUX.