One of the best opportunities for the San Francisco Members of the Order of Malta to meet their personal commitment to sanctification is the Good Samaritan Program, which provides direct, hands-on services to "our Lords," the poor and the sick.
The Good Samaritan Program "launched" on July 1, 2011, as the brainchild of Dick Madden, GCM. Originally entitled "The Order of Malta Direct Assistance Program," he envisioned each visit to a client as a "mini-Lourdes Pilgrimage," with the goal that the effort would serve as a model for other locales within the Western Association.  Members consist exclusively of Knights and Dames in the Order, with three members serving on the board.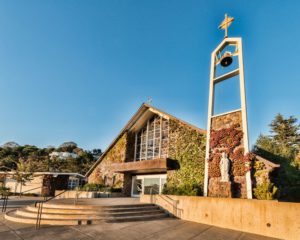 The program provides direct services to the poor and the sick throughout central and southern Marin, including, but not limited to, St. Sebastian Parish in Greenbrae, St. Rafael Parish in San Rafael, and the sponsoring parish, St. Hilary's in Tiburon.  Aid is provided only when existing resources of various parish conferences are exhausted. No other source of emergency funds for housing, food, and the necessities of life for the truly needy exist in the area.  The funds are not delivered directly to the "clients," instead, all of the grants (a maximum of $4,300 per family, allocated once every four months) are sent to client providers, such as landlords, PG&E, etc.
Before the pandemic, each member personally visited clients in their homes, sat down with them, inquired about their needs, and prayed with them, reinforcing charity with spirituality.  Because of pandemic restrictions, members currently conduct visits over Zoom or on the telephone.
Over the years, an average of twenty members of the Order in Marin have answered God's call to help these underserved, overlooked, poor and sick members of their local communities.